Today my mind goes to the place I visited last week. Wait! I just lied. Actually my mind has been wandering about that place for this whole week. I can't stop looking at my phones where I copied some of the pics of that place and think about things I should have done on those places, the pictures I should have taken, the music I should have listened to. Everything was so quick, I hardly have a vivid memory on what actually happened. Even while writing this, I have this urge of going there by myself to really feel that place with my heart. Ok, stop being all melancholic and let's do some flash back, shall we? Oh.. and I must warn you that this post might be heavy to open since there are some pictures uploaded here, for a pleasant viewing purpose. Here we go!
Initial Disasters
My colleague and me have planned this trip since last February. We didn't do it right away because it was rainy season, so it was kind of unsafe to go to the mountain while the weather is bad. The "team" who joined this trip consists of my dearest colleagues who work at the same section as me, they are Rosita and Ojun, plus Roni, Rosita's boyfriend. The itinerary of the travel agent said we will depart from Plaza Semanggi at 7.30 PM, while in fact the buses came on 9.30-ish. 2 hours delay. Noted. Later also we figured out that the seats are small. I already knew what would have to go through *sigh*. After departing for a while, we all felt that the air conditioner somehow did not work properly. It was on, but the car doesn't feel cold at all. Later on, this thing became the thing that holds us at a random rest area in Bekasi for 2 hours, for they sent technician to repair the car airconditioner. Again, I am so unimpressed, pissed to be exact. We continued the journey and we made another long stop at Cirebon (for about 2 hours) because the travel leader was told to wait for the car behind us. We finally arrived at Dieng Plateau area.
The Rushing
After washing ourselves and having some late lunch, we rushed to the Sikidang crater and Telaga Warna. Sikidang crater was beautiful. The sky was very blue and the hills look like somewhere in the movie of Lord of The Rings.
It's not Teletubbies' hills, okay. It's Shire.
I can actually sit in that place for hours, watching the clouds (the thing I enjoy doing at my working desk, yes, at the office), enjoying the breeze… but the thing is, the crater smells awful due to the sulfur it produces.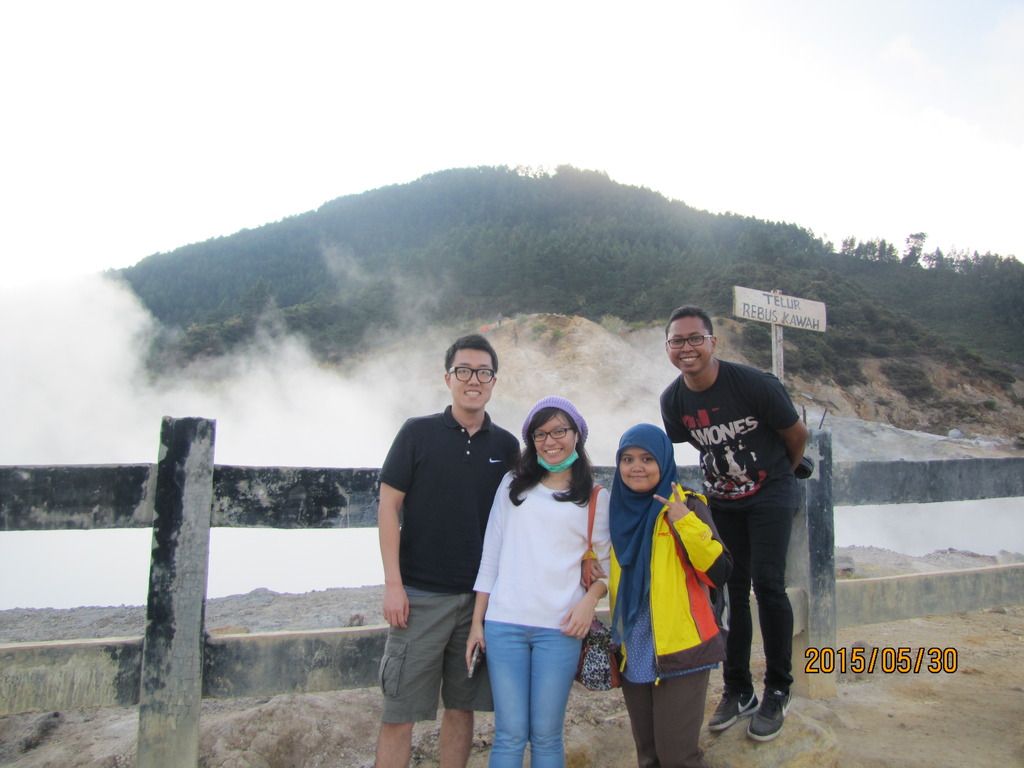 Us!
After around 30 minutes, we continued the trip to Telaga Warna (Multi-coloured Lake). This lake is supposed to have colourful surface since there are some sort of algae with different colours that live on the lake, yet it was impossible to see because we arrived there around 6… that place was dark.
It could be a nice place to sit during the day, rite?
My poor camera could not do anything. I was kind of lucky that Rosita had her phone camera (that actually produces better pics that my damned heavy camera). We also found a really tall tree with a ladder on it. On top there was a place to perch that could be enough maybe for 2 people to watch the area from the top. Rosita and her BF went there, so I just climbed the ladder and went back down immediate (because Rosita freaked out that the wooden perch would collapse, yea right.. LOL). Ojun, this little chicky decided not to go up. The fear of height, Ladies and Gentlemen... *go.. laugh it off*
I got it! I got it!
There was nothing after Telaga Warna. We were expected to rest early since the next day we will start to chase the sunrise starting from 3am. Meanwhile, the temperature of Dieng area dropped.. it was probably around 10°C at night, while during the day it was sort of 18-20°C. I love cold weather!!
Chasing The Sunrise
All of us somehow managed to wake up on time. I have showered before I slept, so no need to take another shower (excuses of a lazybutt). It's not like I am smelly. Hahahaha (if you smell something weird, please stay silent and let the secret dies by itself). We arrived at the spot at around 3.40 am. Surprisingly there were a lot of people who started to hike, just like us. It really felt like there was a rock festival on top of the mountain. LOL. I had this worry that the hiking would make me drowsy, but as time goes by I kinda enjoyed it. I was not panting or anything. There were loads of people on the way to the mountain, so the path was kind of jammed. I only took a picture of the stampede on the way back because then the sun would already sun... otherwise, my stupid camera won't give us anything. Look at those people!!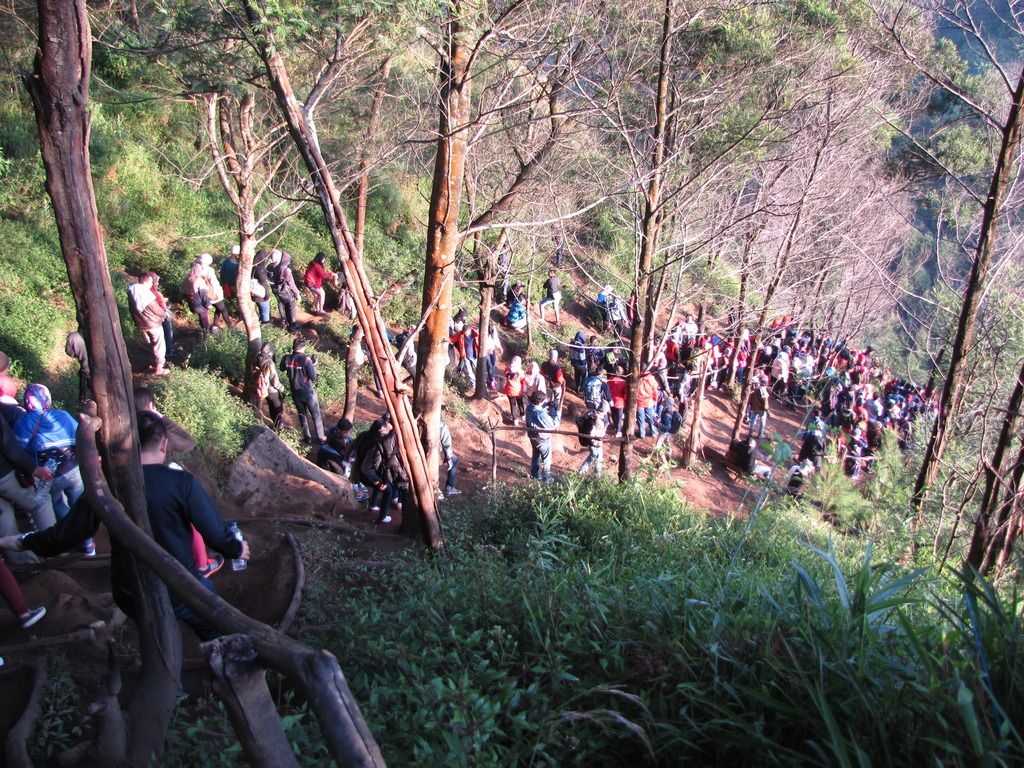 Where are these people going???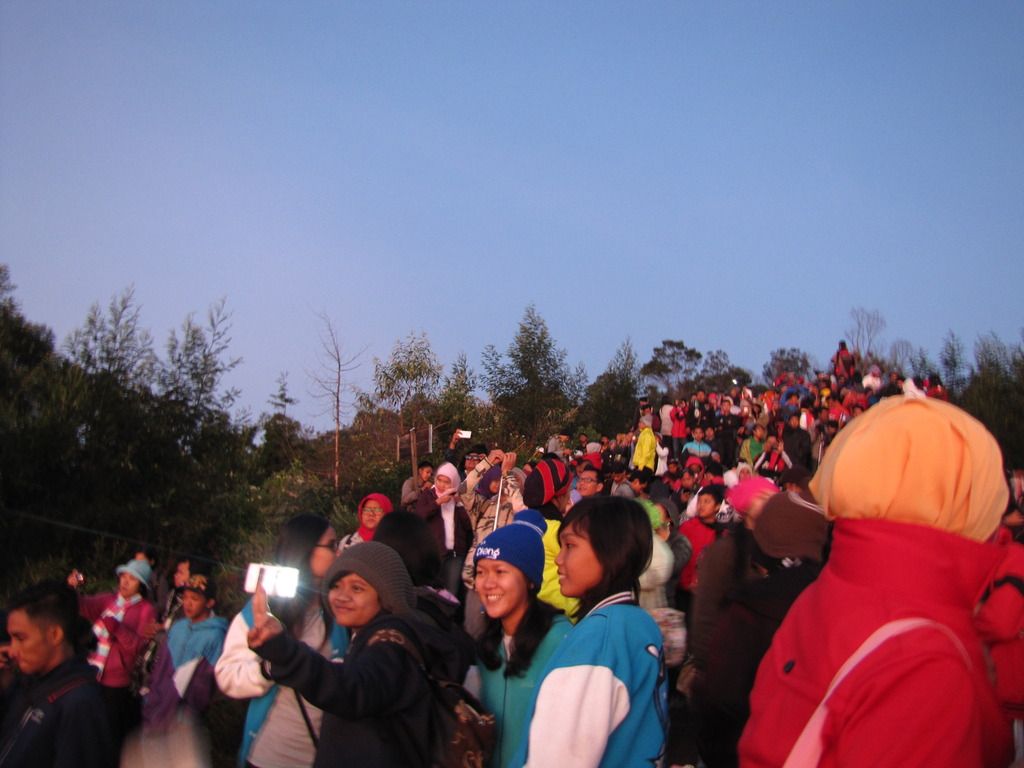 Stampede of people. Waaat?!!
See? Rock festival feeling all over again. The difference is only on the temperature. Rock festival is usually held on a hot summer while this activity is done at dawn in a pretty cold temperature. Ojun, that silly rabbit who doesn't even give a damn to bring jacket and long trousers, he wore short pants, tshirt and a long-sleeved Levi shirt, did not even feel cold at all. Please refer to the picture above and what they were wearing... Jacket, hoodies, hats, etc. It was supposed to be cold. Indeed on the way to the mountain was not that cold, but once we sat on our spot, the cold started to creep out of my skin. Oh, about the spot! Rosita and Roni found their spot right away, while me and Ojun… we must walked a little bit to find it. Luckily we found an empty corner, so we just sat there and talk while waiting for the sunrise. As the sun slowly crept out the horizon, more and more people came to that place (please refer to the pictures above). It was even more crowded than a night market. I won't say much about the scenery. I completely lost my words and let the pics I took speak by themselves. My camera is sort of a completely d*ck if used with low light (dark) but I took a lot, so these are the best from the batch. I really wanna go there again to re-experience all of them, the silence, the serenity, the breeze, the view… all in calmness and relax mind. Maybe it's gonnabe different without the travel mates that were there, I don't know.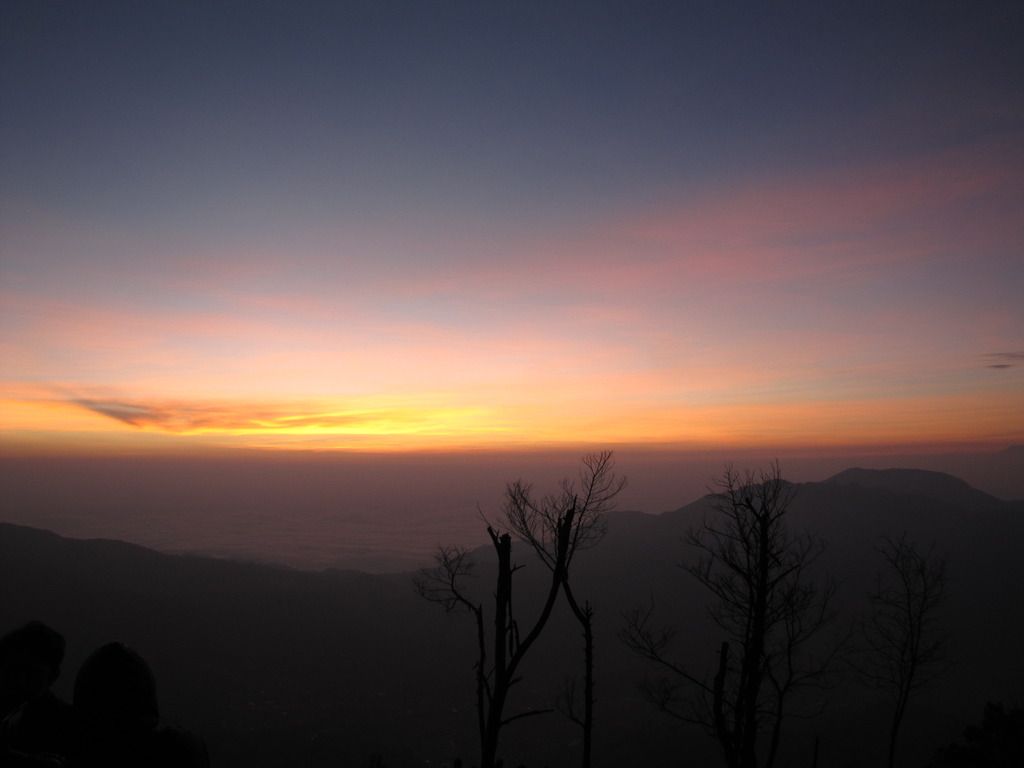 Right under the ray of light, there was the clump of clouds covering the whole valley.
Now you know why they call this place "The Land Above The Cloud".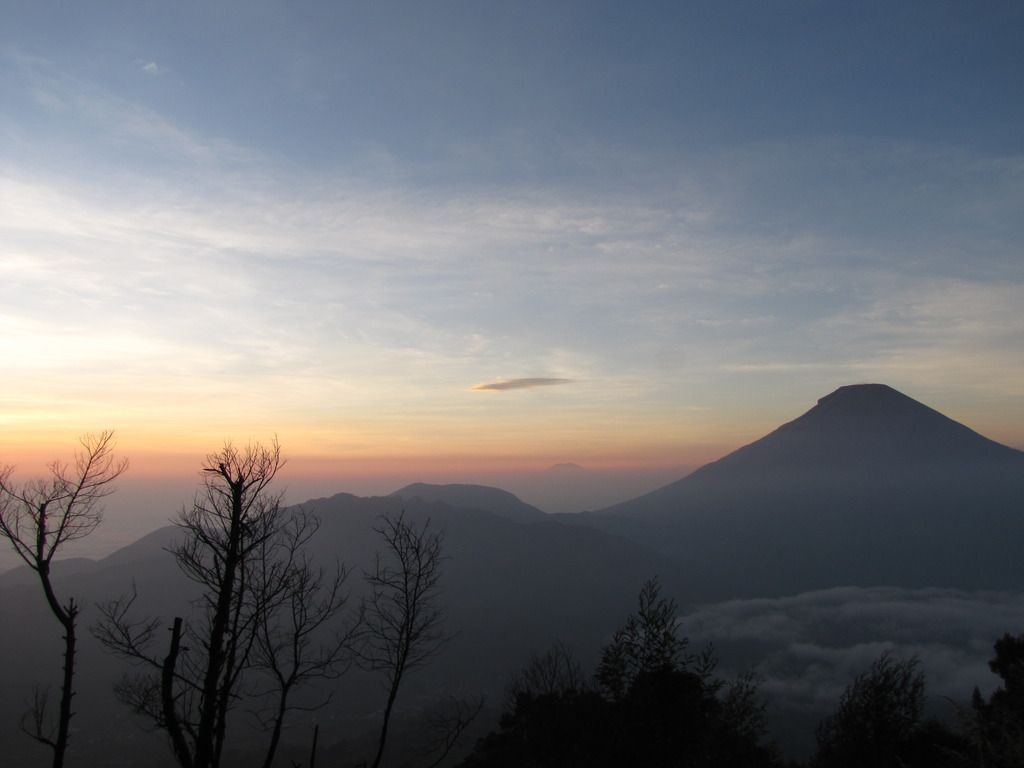 I can watch this view forever. Graceful and magnificent.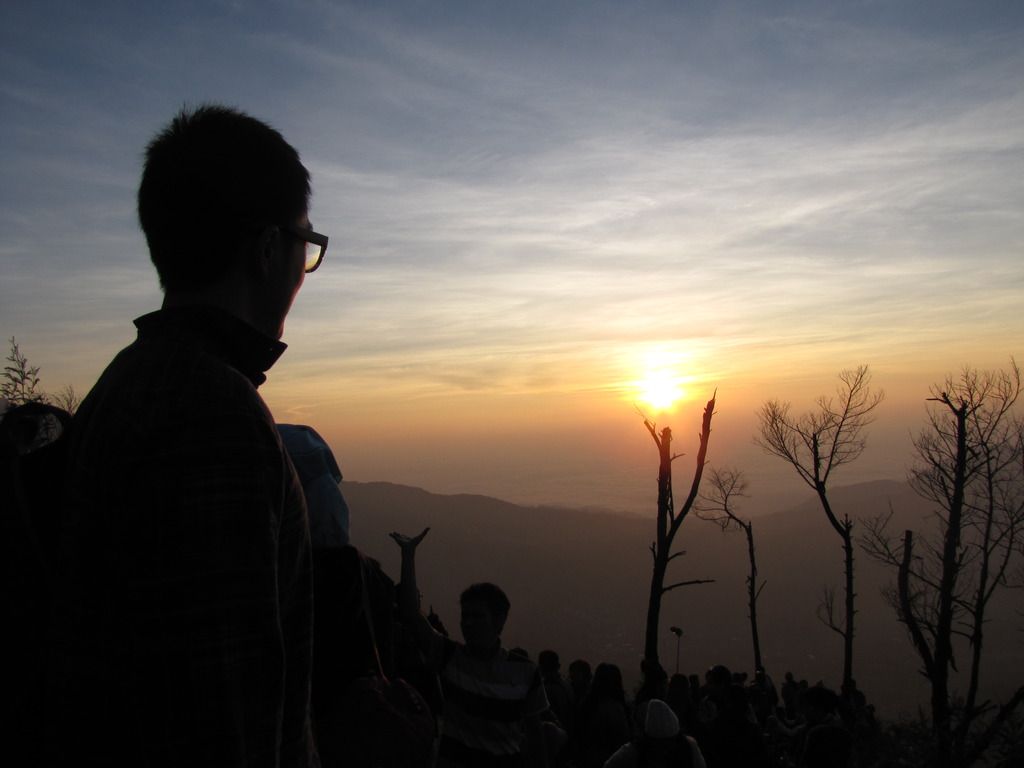 Obligatory picture is taken. Sillouette photo!!
The view of the mountain is really beautiful. It actually teaches me that probably some things are more beautiful to be viewed from far away, so that there will always be the feeling of missing, longing…
Before we all went back to the "dorm", we stopped by at Candi Arjuna (Arjuna Temple). The sky was so blue, I can't help not to take some shots. Btw, Ojun's shirt was in the same colour as the sky… how lovely they look on the same frame. Look at this picture!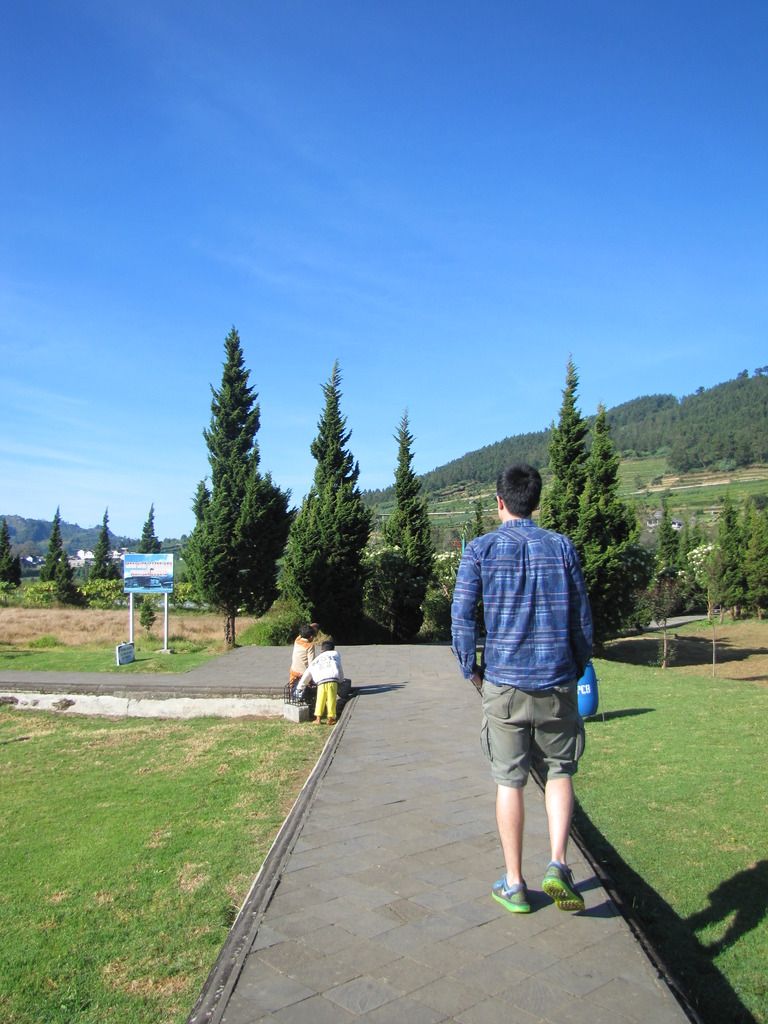 You can read about Candi Arjuna
here
it is in Indonesian tho. It's a pretty nice historic place, I just wondered why would people dressed in Teletubbies and Hello Kitty costumes there, as if they want to distract people who want to see the temple.. Instead, they "were dragged" to take pictures with those "clowns". Improper. Besides, clowns in whatever form are kinda creepy. OMG. Too bad, Rosita dragged me to make group photos with those Teletubbies. Pardon your eyes, this picture might stick into your eyeballs and cause them to burn. ROFL. Btw, what is your fave Teletubbies? Mine is Dipsy~ If you don't know what Teletubbies is, you're very lucky. Haha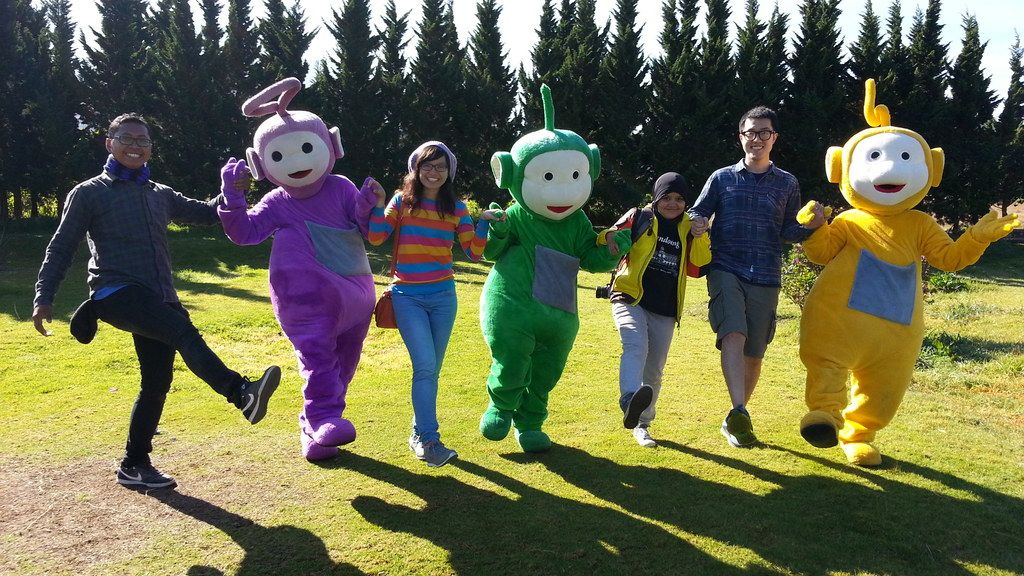 This temple area is actually not the only temple in Dieng, there are a few more temple spots found in Dieng Plateau area. I am not sure with the condition of the other temples, but this Candi Arjuna is still in the process of re-building.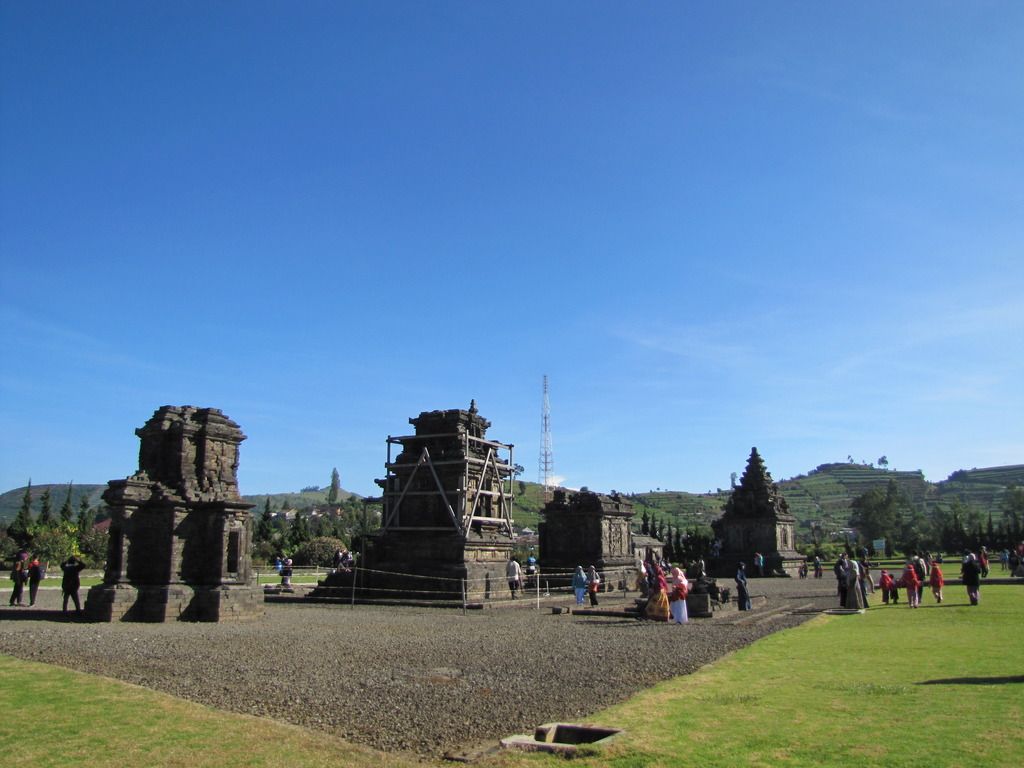 Reconstruction is on going~
They Way Back
That was all the fun part of the trip. Now another torture was waiting for us inside the car. Yeap, the way back to Jakarta was there waiting for us. That was another long trip in that inconvenient mini bus. Oh God… This one took 13 hours. Oh.. before the actual long trip, we stopped by at a traditional noodle called Mie Ongklok which is basically noodle, veggies and satay. It's weird for me, not my taste at all to eat something overly fusion-ed like this. Whose idea was it, if I may know? Nevermind.. ==;;
The RANTS
This travel agent which carried us to Wonosobo has many flaws in giving their services.
1.
The itinerary said we would start on 19.30 from Semanggi Plaza, but in reality they said the traffic jam was really bad, we started to go around 21.30.
2.
The air conditioner stopped working, it was really hot inside the car. We must made another 2 hours stop to wait for the mechanics to repair the air conditioner.
3.
We made 2 hours stop to wait for cars behind us, yeah… it was 7.30 in the morning. We were still in Cirebon, while Wonosobo is still far away. Again, the itinerary said we will arrive in Dieng at 9am, did not happen.
4.
We arrived at around 3pm. We showered and had a super late lunch and then we were off to Sikidang crater and Telaga Warna.
5.
When we arrived at Telaga Warna, it was dark already. All the pictures taken were completely dark… it looks like you took picture in a random lake/big river.
6.
The room, there were 6 of us. 3 males and 3 female, and they put us in the same room. What an actual fudge… I lose words.
7.
The sitting at the car is seriously cramped… It was like we were all shoved inside a small hole, very inhumane in my opinion… in my friends' opinion as well… in other travel mates opinions too.
8.
The time to watch the sunrise was too short. We were supposed to be back to the car around 6.30am. That is too fast. I still want to sit around the mountain, enjoying the view.
The bottom line is that they hardly stick to their schedule, everything is managed in a rush and it is completely their mistakes, not us, the passengers. I would never use their service again. Too bad, because they have interesting destinations. I just can't cope with the fact that they are not punctual and the passengers must pay for their lateness with our loss of time. It is unfair. Bad service is bad. They don't even say sorry. It actually pisses me off. Anyway, it happened... something to learn for future reference.
Before I wrap this all up, I would like to thank our friend, Ojun for putting up with all the "tortures" that happened in the trip. Sorry for the lacking of information and the inaccuracy on the timing. To be honest, I was seeking for surprises in this trip, which turned out I got surprised (in a bad way) on how the travel managed this trip poorly and changed the whole itineraries. Thanks for not killing me for dragging you into this mess. I learn that travelling with a small bus more than 10 hours straight is not okay (sorry for your tired butts, neck pain, lack of sleep, please let me pay for your massage?? Haha). If you cannot forgive me in this life, please forgive me in the next life (if there is even any). ㅋㅋㅋ I hope this is not the last trip you're gonna make in Indonesia. Believe me, not all trip like this. Other places are even prettier than this. Enrich your soul by travelling around and stay in that place to inhale the diversity in that place.
hugs,
jingga