When I found out that he was chosen to get the role of Himura Kenshin, I opposed it. I think, who can play that role well. Kenshin is just perfection. A man of honor and he is a gentleman, indeed. Funny that I thought maybe he could be the actual first love in my high school. I watched that anime religiously and I just think Himura Kenshin has that special place in my heart. And now they make the live-action of the actual anime... which left me feeling skeptical, but those thoughts were washed away after watching the first movie. God, it was so awesome... too much blood but still awesome. A few days ago I watch the 2nd movie at the cinema... I can't be happier. Magnificent fighting scenes and cinematography... I really enjoyed it frame by frame. Gosh~
Let's wait for the 3rd movie, shall we? ;)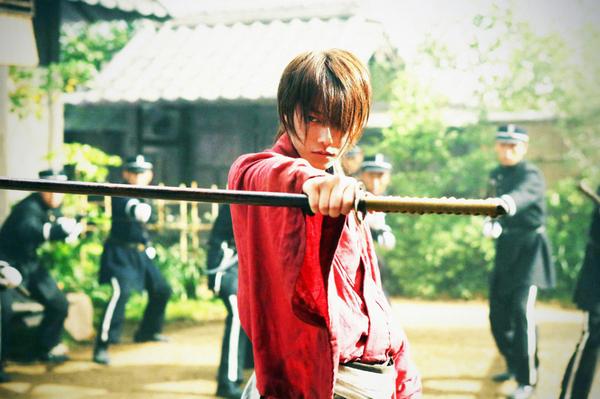 About Kenshin character, when I first saw Takeru Satoh... I was like "For real? This flower boy doing Kenshin?" I was kinda sad because I couldn't imagine if Kenshin's character would be murdered by this so called boyband face actor... Again, I was wrong. When doing the Kenshin role, the role fully absorbed by Takeru.. I feel like seeing Himura Kenshin comes alive.
As I figure out further, Kenshin is indeed never been a big guy himself. His height is not giving much difference with Kaoru's height... maybe 5-7cms different? Compared to Sanosuke who is originally a big guy, Kenshin can be considered small, right? In term of face... anime and manga are totally different. I like the anime version a lot more than the manga. He is pictured as a soft-hearted low profiled man and yeah... strong feature of face would ruin the impression of Himura Kenshin.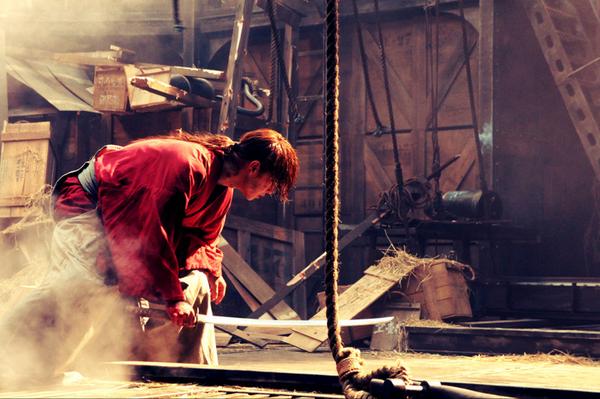 To be exact, I love Takeru Satoh for doing the Kenshin character.Take-san did amazing jobs doing all the actions and act by himself... He is a good actor. I should be thankful~ To be honest, I was never a Takeru Satoh's fan... but I like him playing Kenshin... in the way that I think I see the anime-Kenshin comes to live.
Thank you Take-san... I hope Rurouni Kenshin will be a movie that you would never forget.
By the way, I wanna share a picture from behind the scene of the 2nd movie in which Misao and Kenshin were facing Shishio's soldiers for the first time. That scene is just scary but I just couldn't help not to laugh on this pic of Kenshin bringing mosquito hitter... It looks like he was holding a funny-shaped Katana with that serious face. HAHAHAHAHAHA... Gosh, isn't he gorgeous? Satoh Takeru, I mean... Another J-boys that I love, maybe? After... Taku-sama, Mukai-san, Oguri-sama... they are my J-loves~! ^^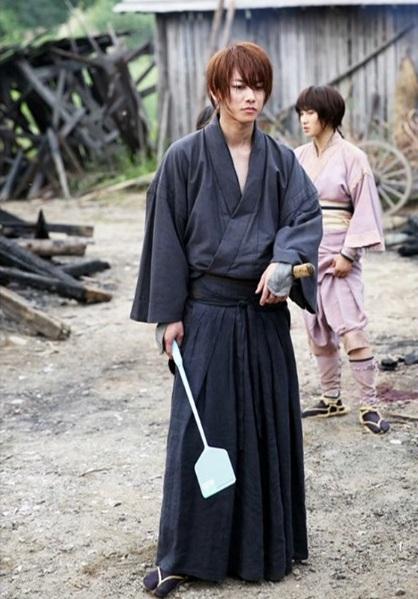 Hugs,
/hyeBINnie